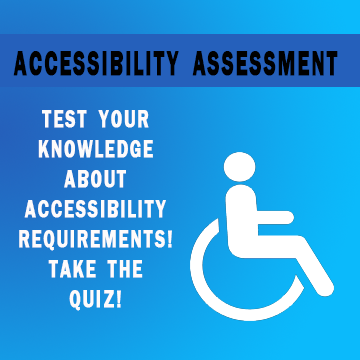 The Act makes it illegal for a place of public accommodation to discriminate because of an individual's race, color, religion, national origin, ancestry, sex, or disability, including:
Refusing to provide service
Being inaccessible to a person with a disability
Setting different terms or conditions for services or facilities
Failing to reasonably accommodate an individual's disability to allow him/her to use and enjoy the place of accommodation
Failing to provide, or providing inadequate, disabled parking spaces
Failing to provide an accessible public restroom
Failing to provide an accessible entrance.
Visit the United States Access Board website to see the accessibility requirements for places of public accommodations. 
If you believe that you have been discriminated against in a place of public accommodation, you can file a complaint of discrimination.
IMPORTANT: All persons covered by the Fair Housing section of the Act are required to post notices to all their tenants, customers, etc., advising them of their rights under the Act and their right to be free from retaliation. Such notices must be accessible, as needed, to persons with visual or other disabilities that affect reading. These posters are available for printing.